Compagnie Lapsus from France and their "Six Pieds Sur Terre" rocked the "Kulturzentrum Alter Schlachthof" in Eupen
by Veronica Posth
Three sold out performances and an excited audience in Eupen, the "schrit_tmacher justDANCE!'s" "centre" for nouveau cirque within their highly acclaimed dance festival. For good reason: The piece "Six Pieds Sur Terre" (six feet above earth) is phenomenal.
The six performers-actors enter the stage with numerous wooden boxes, wooden bricks, a long rope, a big trunk full of egg shelves and a boiled egg that they eat at the beginning of the show after having contend it eagerly.
Then, creating one new set over the other, where the materials on stage become a sort of parkour, they find their ways to jump and lift in extremely complex balances, impressive jumps and pindaric flights.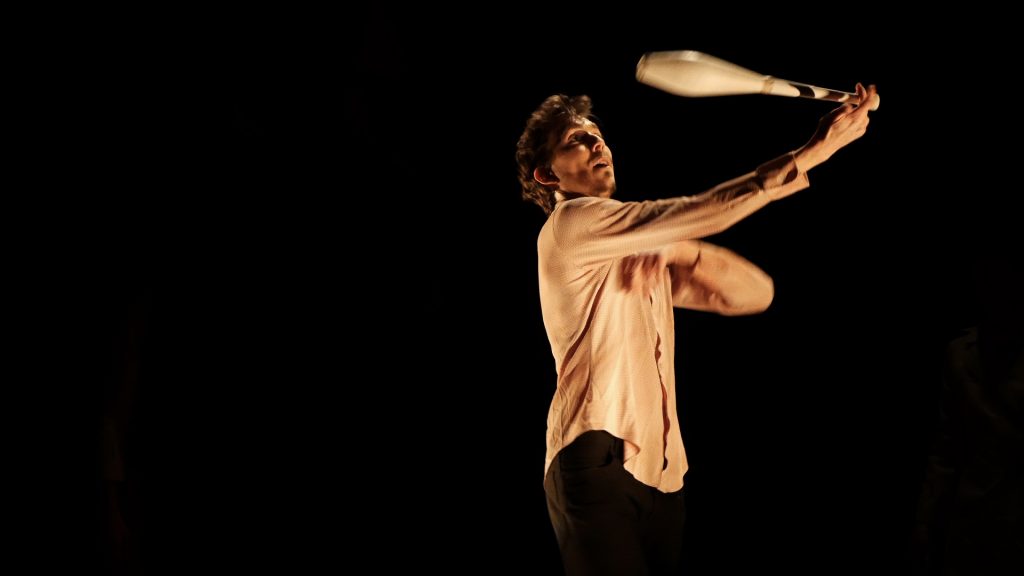 They appear as strategic children in adults bodies having a master plan and only at the end of the piece will be clear also to the audience, their extreme intentions. They clearly speak with their bodies and their expressions being able to create a poetic oeuvre and leading the spectators to feel engaged and thrilled.
The biggest impact is to stimulate genuine laughs of children and adults who enjoy very much the cheerful exuberance and ability of the competent performers. They are funny, eloquent through movements and manners, audacious.
The few materials brought on stage in different forms and compositions, create a poetic set where egg shelves resemble as something really precious to be protected and wooden bricks as an immense potential to build new mise en scène where to play for ever constructing new setting to perform.
Compagnie Lapsus and their piece Six Pieds Sur Terre are joyful and brilliant; they bring to feel surprised and amazed by the audacious hijinks the performers are highly able to generate and they lead into a dream-like dimension where to feel engaged, captivated and highly amused.
The Compagnie Lapsus was created in 2010. They first met at the end of the 20th century at Lyon school circus and they gathered together again after some years went gaining professional experiences at Lido School in Toulouse and at Lomme school in the north of France. The performers have their own specific skills; some aerialists, jugglers, unicycling / balancing / kite / cyr wheel acrobats, carrier and dancers.