Be afraid!
Pina Bausch's Tanztheater Wuppertal is reenacting "Die sieben Todsünden" – a Brecht-Weill dance evening of 1976. But, does it also have seven lives?
review by Melanie Suchy | translated by Karoline Strys
watch our video-impressions HERE PART II and HERE PART !
For almost ten years "Die sieben Todsünden" – "The Seven Deadly Sins" had not been presented in Wuppertal. Pina Bausch had turned it into a so-called "Tanzabend" in 1976 by combining it with the series of song-scenes of "Fürchtet euch nicht". It is an entanglement of the music of Kurt Weill, played live by the orchestra, and sung text from Bertolt Brecht. In November 2008 the reenactment had been presented in the frame of "Fest mit Pina" at Schauspielhaus with a sensation back then: the original cast of the main character of "Todsünden", Josephine Ann Endicott, was dancing again – decision of the choreographer. Yet, she would not be convincing anymore as the young girl, Anna II,- only maybe in kind of an awry reminiscence of once. Now, nine years after Pina Bausch's death, this dancer is standing on stage again in the second part of the evening with asking and shaking shoulders, right up, left up, with a lifted hem of her skirt and a conquering gaze: Here I am, "geht's noch?" ("does it still work?"), she shouts, lay your applause to my feet is what she means. The audience obeys.
Out of respect or curiosity but probably also out of loyalty and being moved. The question of the "casting" is hanging above each reenactment, especially above those of the older pieces. Who of those long-standing dancers and actors that worked for Pina Bausch are still performing and who from the new members is taking over which roles and how are they fulfilling those? Is the piece still what it should be? It is most likely for that exact reason that Adolphe Binder is taking those old Bausch pieces out of their boxes again: to test their viability. You might be telling them a very last goodbye. The actresses Cora Frost and Therese Dörr were not fully convincing in this evening; the 74-year-old Ingeborg Wolff at least had the right dash of self-irony when she gathers the "puppets, more puppets!" around herself and gives her last sigh. As crisp as she acts in this appearance appears also this "Tanzabend", albeit some things in it which seem to have grown old a bit.
Trashy goods
In "Die Sieben Todsünden" the two sisters, both called Anna, went out to seven cities in the States to earn money for a little house for the family, parents and brothers. Anna I, more practical, is organizing while Anna II, "my sister is a bit crazy", the dancer, is parading. This is been told singing by Cora Frost in a decent, black dress while she is equipping the sister in the flower dress, Stephanie Troyak with comb, blouse, skirt and shoes, dressing her up and directing the spotlight at her which becomes the sunshine for the naïve little girl. Blended in such a manner she is rushing headlong into disaster, from station to station, from "sin" to "sin". She is posing for a photographer first startled then sensually, lifting her skirt, lets herself being groped by men, is dancing in a flesh colored underskirt in the swarm of other scarcely dressed, shady women, she is being measured like a good by a procurer and is falling in love with a young Fernando – but the goal-oriented sister breaks up the connection of their hands. She is tired in the end, the gaze directed down to the ground like her former sunny spotlight.
"Wir alle sind frei geboren" ("We are all born free"), sings Anna I the text of Brecht to a marching rhythm as if in mockery while the crowd of women appear in tight black skirts, their arms pressed to their chests. At least they are hooking up their arms,- not for revolution however. Instead they are swinging their legs high up for a joyless show. All is bitter, terrible, a moralizing tale of woe into which Stephanie Troyak, a Wuppertal new-entry of 2017, is entering skillfully with all that Bausch swaying in the gestures, the gazes and dances between energetic activity and slacking passivity. But as entirely as once Jo Ann Endicott did it, and also described it in her biographical book, the young American is not able to merge into the role. Further, she is not dragging the audience as much into the descent with her, the submission, the loss of Brecht's deadly sins – speak: virtues, like "Pride of the best of the self", "Wrath because of the wickedness", "Selfless Love" or "Envy of the happy". In that way we are observing a crude tale of 1933 – and the creation of a choreographer who from then on changed her working methods and by that would reinvent the genre of Dance Theater.
Song to Song
The topic of the entertaining dance revue as well as the collage structure – that Pina Bausch is presenting even more extensively in the second part of the evening "Fürchtet euch nicht" – would become the basic element of her further pieces. The symphonic orchestra of Wuppertal under the spirited direction of Jan Michael Horstmann is still playing in the scenery further back. The musicians are blaring and purring out from the depth of the space, songs from "The Threepenny Opera", from "Happy End", "Berliner Requiem" and from "Aufstieg und Fall der Stadt Mahagonny". The performing guests sing with varying sentiment, correct, but lacking glamour. The evergreens "next whisky bar" and "Moon of Alabama" are sung by all twenty dancers together like a tipsy travelling party, the gaze directed towards the sky, the shoes in their hands, standing tight together. The dancer Ophelia Young is singing "Das Lied von der harten Nuss" and dancing snappily with elbows, knees and fists– a little highlight.
A big highlight is finally the scene with the four elder female dancers who are draping themselves on fur coats on the asphalt that represents the street stage design of Rolf Borzik. Nazareth Panadero, Jo Ann Endicott, Helena Pikon and Julie Anne Stanzak show an elegant leg and are singing fully and fully out of tune from "Eifersuchtsduett" of the "Threepenny Opera": "ich möchte auch mal was Schönes sehen, Du Dreckhaufen" ("Sometimes I want to see something beautiful, you piece of crap"). They put their heads together, squeak at each other like outraged pussies, "ha ha haaaa", retreat and bark "Ridiculous!" in between. Laughter and big applause. This sort of bitchy with is not really new anymore but has its brilliant moment in here.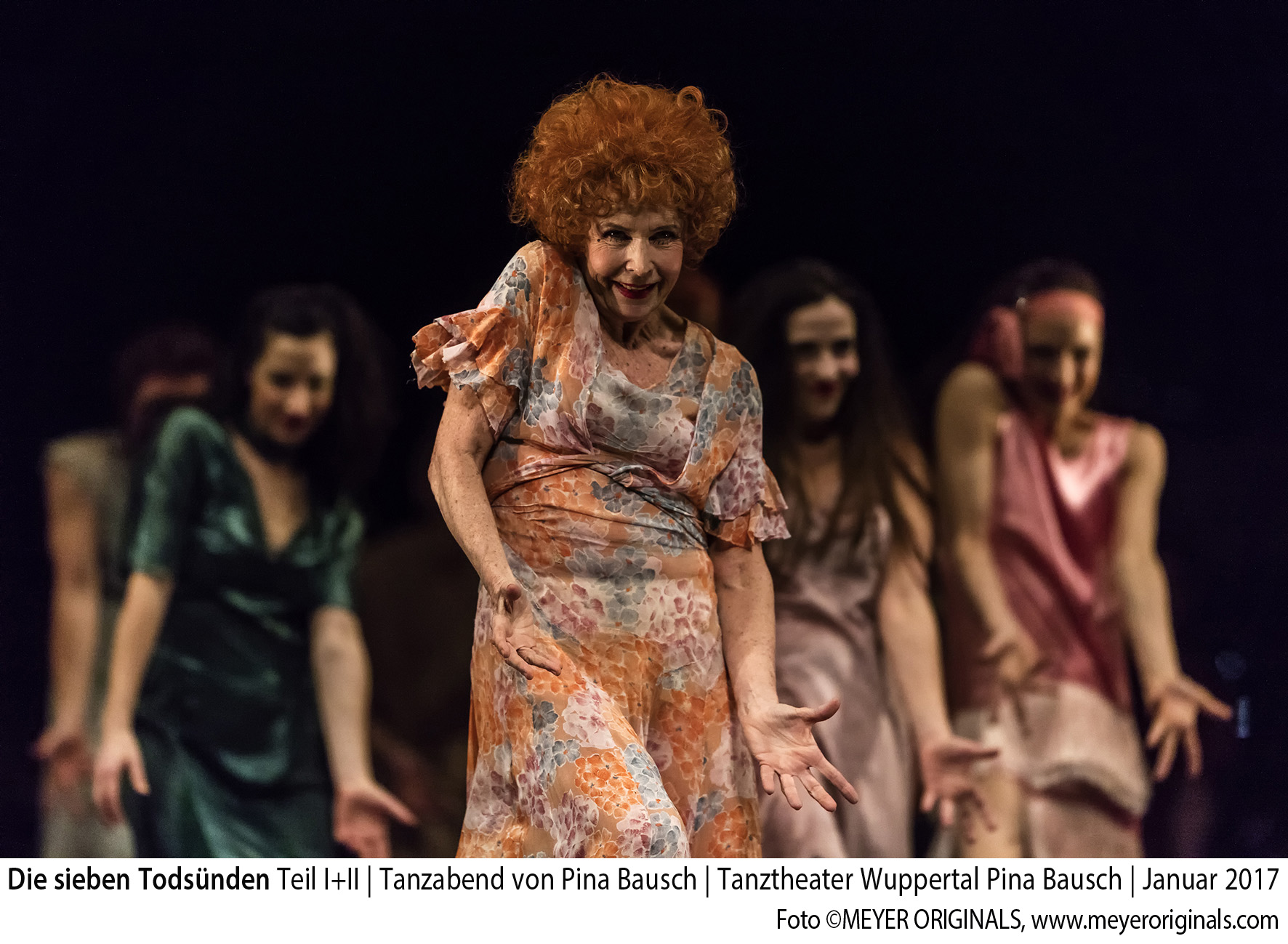 Woman to woman
While in a revue costumes and dances are alternating as much as the formation from chain to crowd to rows, a little story is threaded through this "Fürchtet euch nicht": a girl, embodied by the small-grown Ditta Miranda Jasjfi, wants to become a woman. First she is cuddling up with a chamber size mirror, then she dreams imagining a tall dance partner whom she is having with her in a rock turn, lying next to her or caressing his head. The man appears when she is asleep. It is Jürgen Hartmann, the one who will continue singing "Don't be afraid" as a recurring birdcall, a false promise: He is dancing first nicely and gently with the girl though is later cutting up rougher and rougher. She is running away looking for shelter but the people she finds are just then lifting their eyes to the sky for "Moon of Alabama".
Who is not afraid is sleeping. Who is dancing – like this strange heavily made-up ensemble of men and women in straps, bustiers, black and brightly and matt colored dresses, skirts, feather seamed flowing coats – is maybe dancing the fear out of their body with arms swinging, throwing of the leg, wagging lower legs or with toddling steps falling forwards. Making themselves blind. And yet, will see. These are emotions, escapes and questions that are always recurring in Pina Bausch's pieces. At the bottom they are not outdated but inescapable as long as we live and as long as people present themselves to others on stage. Therefore, this dance evening is worth seeing because you can recognize how she found the topics for her present in the nineteen-twenties through her musical and poetic vision. The "Todsünden" have great moments but after all maybe not seven lives – for practical cast-related reasons.